The Nevers is a science fiction drama television series that premiered on April 11, 2021. The first part of season 1 aired Sundays at 9:00 p.m. ET/PT on HBO and is available to stream on HBO Max.
Premise
The series is described as epic science fiction drama about a gang of Victorian women who find themselves with unusual abilities, relentless enemies and a mission that might very well change the world.[1] Joss Whedon explained:[2]
"They, themselves are not called ['the Nevers'] in the show. It's a phrase that's meant to evoke a sort of reaction to their oddity, to what is considered unnatural. The idea that you should never be like this, you should never have existed. Something is not the way it should be, and you don't have the right to have whatever weird power or ability or that you have. And that idea, that some people are not of the natural order, is fascinating to me. I don't agree with it. But to me, it's one of those things where you take something negative, and you wear it as a badge of honor, basically. Certain things could never happen — they're happening. And the people they're happening to are taking their place in the world."
Actor Denis O'Hare, who portrays Dr. Edmund Hague, described the series: "It is a wild, Victorian X-Men meets Sherlock Holmes meets girls with superpowers mash-up."[3]
Origin
In 2015, Whedon announced a comic named Twist, a six-issue miniseries described as the answer to his thought: "Why isn't there a Victorian female Batman?" The project was never published and, in 2018, Whedon confirmed this comic was inspiration for the creation of The Nevers. He explained that he was thinking of a lot of stories and enough of them were Victorian, an era he's fascinated, particularly the end of the century, "when the world was just about to shift radically." He added that he didn't want to tell a story about a person, but talk about society as a whole through people's interactions and adventures. Although, he concluded that he doesn't know if Twist and The Nevers cancel each other out.[2]
Cast
Main cast
Recurring cast
Production
Crew
On July 13, 2018, it was announced that HBO had given the production a straight-to-series order.[4] Joss Whedon would serve as a writer, director, executive producer and showrunner for the series. The series landed at HBO after a bidding war with other networks and streaming services including Netflix.[5] Bernie Caulfield, Jane Espenson, and Doug Petrie would executive produce as well; Espenson and Petrie would also write.[1]
In January 2019, Laurie Penny announced that she was working as a staff writer on the HBO show.[6] Whedon confirmed in April he has been working as well with the writers Melissa Iqbal, Madhuri Shekar, Kevin Lau, Daniel S. Kaminsky, and Hennah Sekandary.[7]
In April 2019, HBO announced that actress Laura Donnelly had landed the lead role as Amalia True.[8] The main cast announcement was given in July[9] and the recurring cast in the following month.[10] It had also been revealed that Gemma Jackson would serve as production designer[11] and Christine Blundell as make-up designer.[12]
Joss Whedon stepped out from the position of showrunner in November 2020. He stated:[13]
"This year of unprecedented challenges has impacted my life and perspective in ways I could never have imagined, and while developing and producing The Nevers has been a joyful experience, I realize that the level of commitment required moving forward, combined with the physical challenges of making such a huge show during a global pandemic, is more than I can handle without the work beginning to suffer. I am genuinely exhausted, and am stepping back to martial my energy towards my own life, which is also at the brink of exciting change. I am deeply proud of the work we have done; I'm grateful to all my extraordinary cast and collaborators, and to HBO for the opportunity to shape yet another strange world. The Nevers is a true labor of love, but after two plus years of labor, love is about all I have to offer. It will never fade."
In January 2021, Philippa Goslett was named the series' new showrunner.[14] The official website credits the series as executive produced by Joss Whedon, Bernadette Caulfield, Ilene S. Landress, Doug Petrie, Jane Espenson, and Philippa Goslett; while Daniel S. Kaminsky co-executive produces.[15]
Filming
On July 4, 2019 Whedon announced that principal photography had started.[16] Two weeks later, it was reported that scenes were filmed in London at Trinity Church Square[17] and Historic Dockyard Chatham.[18] The filming for the first episode wrapped up in August 14.[19] In January 26, 2020, shooting took place at the Joyce Grove country house estate.[20]
The shooting was put on hold in January due to the COVID-19 pandemic[21] with about 5 episodes shoot and the season half-way through.[22] Production picked up again in September and the filming of the sixth episode was concluded in the following month.[21]
The first season was originally going to have 10 episodes,[23] but it was then expanded to two parts of six episodes each.[15] HBO and HBO Max chief content officer Casey Bloys explains: "There was kind of a natural narrative break at six. So that was the thought then was to air six episodes. So at least we had something to put out there for subscribers and fans."[23]
Filming for Part Two of the first season began on June 29, 2021 and concluded on December 18, 2021.[24] New showrunner Philippa Goslett, who took over for Whedon in January, mapped out the back half with her writers' room while Part One was premiering.[25]
Publicity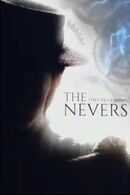 The release date for The Nevers was revealed as 2021. The presentation for HBO Max displayed a new poster, which featured logo (Cinzel font) and tagline ("They're coming.") as previously created for the fansite hbothenevers.com.[26]
The first scenes of the series were revealed in a video released on December 17, 2020 showcasing HBO Max's upcoming lineup.[27] A video teaser for the series was posted in February 2021[28] and the full trailer released on March 23,[29] along a press release with details for the six first episodes of season 1.[30] The personalized emoji
was also added to #TheNevers and #TheNeversHBO hashtags on Twitter,[31][32] updated to
after the mid-season finale.[33][34]
The first scene of Part Two was included in a video released on December 22, 2021, showcasing HBO Max's upcoming lineup.[35]
International titles
| Country/Region | Title | Translation |
| --- | --- | --- |
| Bulgaria | Невъзможните[36] | Impossible |
| Czechia | Viktoriánky[37] | Victorian |
| Japan | ザ・ネバーズ[38] | The Nevers |
| Poland | Nierealne[39] | Unreal |
| Russia | Невероятные[40] | Incredible |
Videos
Official links
References